Victorious has at last made some real progress! New frames are going in starting from the bows and six each side have been replaced with new grown oak. I am using one galvanised screw per plank to fasten the old planking to the new frames (mainly cos I've got 2000 of em.) I have also found a timber yard in Cadnam ( S.C. SOFFE & Sons), Who have been enthusiastic as well as affordable and yet more grown oak bends have arrived as well as a dead strait 26ft run of oak for the keelson. The new stem and apron are also in place and I sleep better on windy nights now that the hood ends have something to cling to!
I have also been working hard with some C.A.D software and plotted the boat in "cyberspace". As soon as I can figure out how to make the resulting "bitmaps" small enough, I shall publish some of these drawings including some possable deck plans! (HELP!)
Photos and history of Victorious have still eluded me and any help,info,or leads would be so much appreciated.
Cash is so tight at the moment that I have yet to have the latest photo's developed....soon..somehow, I'll post them on the site!
Russell Ferriday.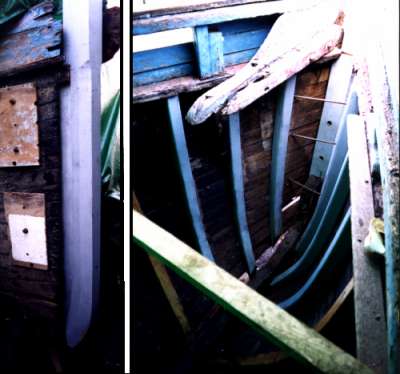 I visited Peter Thomas and Transcur in november and cannot help being impressed with his progress! Trancur is looking very sweet and tidy with as pleasing a counter as I've seen. I attended the end of season "bash" and met yet more delightful loonies with creaking old timbers! My thanks to all for the interest in Victorious and the offers of sailing on Smacks and Bawlys in the coming year.
Once again my Thanks to Peter and Clare Thomas for the hospitality for the weekend.
Victorious will next get a new face and steel shoe on the keel and new keelson.
I have had little success tracing any further history and photos have totaly eluded me! HELP!
I shall endevour to update every two weeks and appologise for the lack of new info and pages so far (no excuses. Just work, lack of computing skills, lack of writing skills, weakness, etc, etc)
Russell.
09 Dec 1999
----------------------------------------------------------------------------------
Archive: Oct 99.
The task of merely cleaning up has been considerable.
Port garboard has been removed allowing mud, concrete and ballast out and I'd like to thank gravity for its help.
The deck and deck beams carlins etc were all beyond any hope and only half of it was good enough to be used as fuel in our woodburning stove. Large sections of the beamshelf fell away while deck beams were removed and some frame tops seemed to gain inspiration from the beamshelf and followed suit! As a result most of the temp deck beams are bolted through the bulwark capping plus a few nailed/bolted through the planking.
Engine beds were made up from six 6' lengths of 7" by 5" oak. When removed they were so heavy that evicting them from the boat was a major task and the combined weight of timber and helpers manhandling it over the frames of such a delicate structure had me worried several times. I may yet find a new use for the timber as it seems to be in very good nick and has few if any fastenings or nails.
Frames have been examined and those that may be retained have had liberal coats of boiled inseed/cuprinol.
The keelson ends one frame short of the aft dead wood and over the years in the putty, she has hogged badly at this weak point. As soon as she arrived in the garden, acros were fitted under the counter and large bottle jack used to raise the heel of the keel.
Several turns all round, Twice a day, have picked her arse up nicely and she has only 2" of hog left. It was a joy indeed to see the sheer and shape return day by day. Alas she has dried out too much now and refuses to lose that last "hint of hogging" so I'll have to live with it and I'm sure the task of fitting new garboards will be all the more "interesting"!
The stem and apron were both "unwell" and came away with little more than a sharp tug! Two large lumps of best local oak have now arrived and will become apron and stem soon.
The heap of mud and rubble that remains under the boat is huge and I must find a way of getting rid of it.
I have given a lot of thought to the rebuild and listened to advice from many quarters.
Talk in sailing clubs and the like always starts the speculation about cruising the world and so many seem to assume that anybody putting so much work into a large boat must surly be intending on long passages south and lots of charter work to pay the bills! I am not so sure. 42' LOD is getting large enough by modern standards but in an east coast smack the counter is little use for anything but storage and headroom is for the vertically challenged only. I realise that I am doomed to a lifetime of "Smack back"
But would others pay for the chance to acquire such an affliction?
Old wooden boats do not take kindly to the Mediterranean heat and there is so much of the north European coast to explore. I am keen to pit my wits and timbers against the Essex crowd of old boats that any plans of going foreign will certainly be delayed by the sailing to be enjoyed in UK waters.
Funds are never going to be enough and so I intend to live on board when she is habitable and so some headroom is essential. I find the trend of restoring these boats "as was" followed by the standard coachroof (and often skylight) unadventurous and it loses some of the elegance breaking up all that deck space. I am well over six foot tall and so standing room is too much to ask (current height is 4' 3" at the mast. Minus the thickness of cabin sole and deck beams!) so I shall aim for comfortable sitting room and hope to find a sympathetic osteopath! I do intend to gain some headroom by bringing the deck up in a sort of "blister" with gentle curves starting at the mast and about 2' inboard from the bulwarks. This does mean that the beams will be laminated mahogany instead of the original rough sawn oak but this method lends itself to making the beams dividing at the ends and incorporating the hanging knees as well. If you visit my Guitars page you will see how much I like to laminate things!
Con Vogel Veneers has donated sufficient 3mm veneers to make well over half the beams and one of the major epoxy manufacturers is considering donating the glue!
I find myself speculating as what Bill Warfolk would have done if he'd had the mahogany and epoxy in his stores?
Oh how I miss the long summer evenings!!!!..